Google broadens inventory for Shopping campaigns
Starting from 4th March, Google has announced that Shopping ads (both Product Shopping ads and Showcase Shopping ads) will be eligible to appear in Gmail in addition to YouTube and Google Discover. At present there will be no way to break out the reporting by property.
New local SERP live in Europe
Google has updated its local SERP to include an alternative directory sources pop-up for the same query. Below is an example screenshot from a UK search, showing directory links above the map and local pack: Read more here.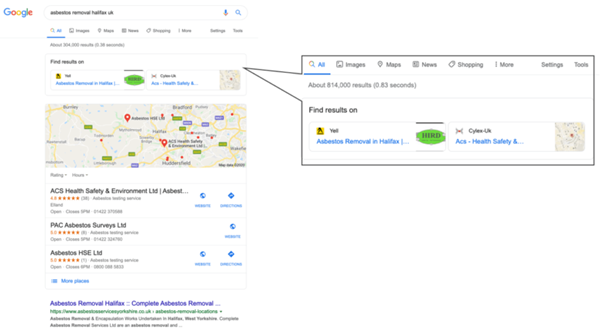 Research: e-commerce category pages outperform product detail pages in SERPs
According to new research, E-commerce category pages represent a larger opportunity for ranking and driving organic search traffic than product detail pages, highlighting the important role category pages play in upper-funnel marketing efforts to drive brand awareness and interest.
Google Ads visibility on change history
An update to Google Ads will make it easier to determine how campaign changes impact ad performance. Going forward, advertisers will be able to view campaign changes annotated in their performance charts – highlighting changes to audience list, optimization goal, and assets (only for App campaigns).
Refresh to Bing Webmaster Tools
In Bing's Webmaster Tools refresh, it has announced that it's made a number of changes:
Backlinks: The inbound links report in the current portal has been integrated with the disavow links tool, which are now a part of the new backlinks report in the refreshed portal.
Search Performance: Page traffic and search keywords reports are also integrated as one and are a part of the new search performance report.
Sitemaps: The sitemaps page is the refreshed and looks new.
New Facebook app Hobbi launches
Facebook's New Product Experimentation (NPE) team has launched a new app Hobbi, which is a Pinterest-like app for collecting images of hobbies and interests, and sorting them into boards to track your progress. It seems to focus more on tracking your personal progress than Pinterest does.
Snapchat's new ad unit prompts users to call or text businesses
Snapchat is launching a new ad unit that, rather than linking to a website, directs users toward calling or texting a business. The new "Swipe Up to Call" ad unit works exactly as you'd imagine - an ad is displayed while viewing Snapchat stories which prompt the user to swipe up on their screen. This gives businesses more control over the experience when communicating with a customer directly, which allows them to provide a more personalized level of service.
Burberry brings products to Google Search through AR
Burberry is trailblazing the future of fashion product search, and has just launched a new Augmented Reality (AR) shopping tool through Google Search technology. The AR tool allows consumers to experience Burberry products embedded in the environment around them, enhancing their research and shopping experience online. When searching for Burberry items using Google Search on their phone, consumers can see an AR version of the product at scale against other real-life objects.
You can read more about it from the company blog here.